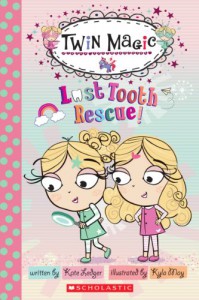 For more reviews, check out my blog: Craft-Cycle

I'd never heard of Twin Magic before finding this in the Little Free Lending Library. I was intrigued by the cover so I picked it up. It was kind of weird and definitely not what I was expecting, but I could see how children would enjoy it (especially those who like glitter). It could easily be a hit with fans of My Little Pony and Care Bears.

The story itself (lost tooth) is one that has been told time and time again in children's literature. This one just adds super-hero-style elements to the story. I did enjoy the girl empowerment woven into the story (and the subtle way the twins reject Toby's help). A nice was to introduce girls to the idea that they can do anything.

I did think the girls' powers were a bit weird (couldn't they have just asked Rosie to fly up and get the tooth instead of creating an elaborate, doomed-to-fail plan to have her stand guard while they use their mind powers to get the tooth?), but to each their own I guess.

A weird story, but still good. This is a cute beginning to a series.